In Mould Labelling and Decoration can achieve cost reductions together with outstanding technical graphic results.

In Mould Labelling or Decoration provides a diverse alternative to product marking and decoration. In Mould Labelling was first used in the 70s as an alternative to decals and labels. Negating the need for adhesives and the palpable gains in production efficiencies that were experienced by the early adopters of this process, resulted in wide spread use and development. Particularly in the areas of automotive and consumer products where backlighting of switchgear is achieved with plastic injection moulding.

Terminology

In Mould Labelling (IML). This is the most basic form of the process and is a technology used to decorate simple plastic products such as packaging containers. This process can be used to follow simple 3D profiles such as display lenses. The printed foil will deform and follow a cavity profile with careful mould tool design. The foil can either be placed on pins during the process cycle of the moulding process or simply be placed in a cavity using either an interference fit or by means of static charge.

Film Insert Moulding (FIM). As above.
In Mould Decoration (IMD). This more advanced process requires the printed foil to be formed by Hy.tech Forming Systems (Euro) Ltd using their AccuForm® high pressure forming process. The formed printed sheet is then trimmed to remove excess waste either by hand trimming or matched metal tooling. Some more advanced mould tooling can 'nip' the waste during the moulding process. The subsequent formed and trimmed part is then placed in the mould cavity during the mould process cycle. The results of this process can be seen in most automotive vehicles that have 'back-lit' switches on their interior controls.

Production of the foil or insert can be printed using a range of methods. Predominantly the high volume packaging process is printed using an offset litho process and fed automatically during the mould cycle. The more technical projects use screen printing, where the characteristics of the foil or insert are a strategic element of the finished product. Digital printing can be used in some instances where a low volume / full colour finish is required. This process normally requires a supporting back flood of high temperature ink using a screen process to protect the digital ink from gate wash.

Below is a graphic representation of the process :-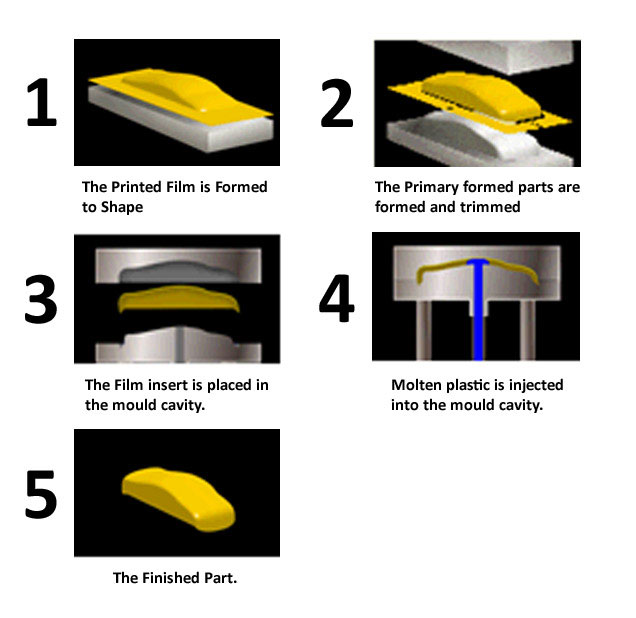 Customark's process experience allows our Customers to benefit from just simple advice to project support, liaising with formers and moulders. Typically the process requires careful and experienced mould tool design considerations from the start. In some instances mould tools do not require modifications but is is normal for existing process tooling to have some form of adaption.

Customark work in close strategic partnership with Hy.tech Forming Systems (Euro) Ltd and technically experienced moulding partners to bring projects to market using specialist film manufacturers such as Bayer, Sabic and Macdermid Autotype. This combined experience reduces costs and lead times for bringing projects to market.

Key process Benefits :
Design Flexibility

• Unique Graphics
• Selection of high grade printable films with unique characteristics such as Anti Fog, Anti Scratch or Anti-Microbial
• Multiple variants from one Mould Tool
Manufacturing Productivity

• Eliminates secondary operations
• Eliminates adhesive cost and process
• Variable design batch processing
Design benefits

• Full 3D graphic wrapping
• Decorates parts for life
• Advanced surface finishes
• Encapsulates Print
• Enables selective backlighting for 3D moulded parts

As with all our other services, Customark are always on hand to assist with Customers on any new designs or existing processes. We would be delighted to offer any support, even if its just an idea that needs sounding out.

Please don't hesitate to get in touch with us and speak to one of the UK's leading In Mould Label Suppliers.
In Mould Label, Labelling & Decoration Suppliers